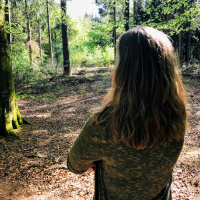 Kaelie Bright
New Adult Romance, Time Travel Romance, Teen & Young Adult
Kaelie Bright's love for fiction started at an early age and developed in later years as she got a degree in English Literature. Inspired by the classics and other writers in a range of different genres, she decided to start writing the stories she and those around her love to read. Across Time is her debut novel and the first book in the Traveller Trilogy.
I ask you to pass through life at my side—to be my second self, and best earthly companion.
Charlotte Bronte
The human heart has hidden treasures, In secret kept, in silence sealed; The thoughts, the hopes, the dreams, the pleasures, Whose charms were broken if revealed.
Charlotte Bronte
Be with me always - take any form - drive me mad! only do not leave me in this abyss, where I cannot find you! Oh, God! it is unutterable! I can not live without my life! I can not live without my soul!
Emily Bronte
Whatever our souls are made of, his and mine are the same.
Emily Bronte
Ways to reach Kaelie Bright